Crime Stoppers offers a reward of up to $1,000 for information leading to an arrest and charging in any felony case or that helps in the capture of a fugitive.
Simply click on the Submit a Web Tip button on the left of this page; call our toll free number; or use a smart phone APP to qualify and to help solve a crime.
To provide information click Solve this Crime below each case. Shown below are selected cases Law Enforcement is trying to solve.
$100,000 Reward for Information on Bank Robbers
November 08, 2010
Police and the FBI are in search of suspects believed to have robbed several banks in the Twin Cities area. The banks robbed include Wells Fargo Bank in Champlin on August 4, 2010, U.S. Bank in Plymouth on September 13, 2010, and U.S. Bank in Anoka on November 5, 2010. They are also believed to be responsible for attempted robberies at TCF Bank in Chanhassen on August 30, 2010 and TCF Bank in Lakeville on September 2, 2010.

The individuals responsible for these crimes are generally described as black males in their 20s or 30s, one approximately 6` tall with a slim build, and the other approximately 5'8" tall with a stocky build. They typically wear dark clothing, to include masks and gloves, and carry a black backpack. They have threatened bank employees with violence if they do not cooperate, and have displayed firearms at times. They may be assisted by other individuals as well.

A separate reward of $100,000 is being offered by U.S. Bank for information leading to the arrest and conviction of the individuals responsible for these bank robberies. U.S. Bank offers this reward to show it is very concerned about the welfare and safety of its employees and customers and therefore is eager to take these bank robbing culprits off the streets.

If you have information about these robberies or the suspects please come forward anonymously by contacting Crime Stoppers from this website.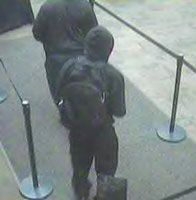 ---
| | | |
| --- | --- | --- |
| Page 2 of 2 | 21 Records | Prev | Next |